We are family, I got all my sisters with me….The lyrics to the song "We Are Family" is the first thing I thought of when interviewing the ladies from Sistas With Sabers. I am so excited for what these women have accomplished in a short of time in Star Wars fandom. It is my pleasure to introduce all of you to Sistas With Sabers.
How did you all come up with the name Sistas with Sabers?
 Maria– The name started by me thinking how can I clearly explain what I want the show to represent. And it grew from there. 
Tell us your story…How were each of you introduced to Star Wars?
Olivia– my dad was a super fan and made sure we watched all the movies before I was 10. Star Wars was always in the background in my childhood. I reconnected with the movies as an adult and they meant so much more. 
Rayven– Both of my parents were fans and still are. It was always a family experience to sit and watch the movies together.  Mom is still often caught watching when my sisters stop by.
Mel– My parents were both big sci-fi fans so I saw it when I was really young but the first time I really remember seeing it I was 11 at my uncle's place in Texas. I was so blown away by the movie I couldn't stop talking about it for days.
Maria– I was a prequel kid. I loved those movies but it wasn't until later that I fell in love with the clone wars and that was my way in. I was 21 when I hit a treatment center for drug and alcohol addiction, In my darkest moment Star Wars showed up and I am forever grateful. I was hooked waiting every friday to see Ahsoka again.
Rhianna– I've been a SW fan since infancy. My first movie was the Phantom Menace when I was like 1. My dad sat me down in a chair next to him and I stared up at screen like it was the best invention since the pudding cup. At least that's how the story goes.
Amanda– Growing up, my family often went to Disney parks on both coasts. Although my parents ( especially my mom ) have always been Star Wars fans ever since Episode IV released in theaters, my sister and I knew nothing about Star Wars when we would go on the attraction with our parents at Disney. We knew nothing about the characters except for a few details our parents would share with us. When I was around nine-years-old, my mom tried to get me to watch the Star Wars movies that had been released up to that point. Except, according to her, I told her that "I don't like movies about war". Between then and 2016, I'd ended up seeing Star Wars clips in different ways ( such as college film classes ) and hearing about the franchise in different ways. However, it wasn't until early 2016 when I personally began to become interested in the franchise. By chance, I saw on YouTube the scene of Rey and Kylo Ren locking eyes during the battle of Starkiller base. I had no idea what I was seeing ( beyond it being a Star Wars scene ), but I knew something big was going to happen with their storylines and I hadn't seen the type of magnetic energy shared in their eyes anywhere else before. It became abundantly clear to me that the franchise had strong character connections and fascinating characters. So, I told my mom I was ready to get into Star Wars, and we did a marathon of Episodes I – VII via DVD at home.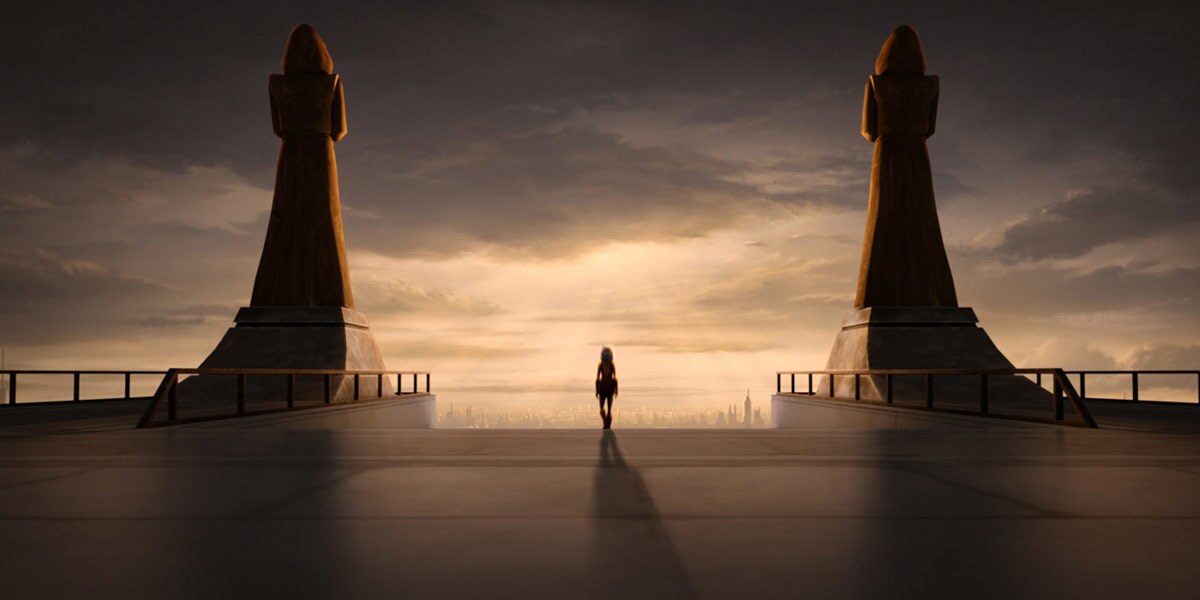 In your Twitter bio, Kiri Hart is mentioned. Why do you love her so much?
Rhianna– I feel like Kiri Hart was our voice during her time at Lucasfilm. Her presence there was reassuring. 
Maria– It was the first time I saw a Black woman calling the shots at Lucasfilm and it was very inspiring to me. I thought wow that could be me.
Name your favorite Star Wars Character and why?
Amanda– My feelings about favored characters have transformed quite a bit during the past several years. For four years, my top favorite character was Rey. I like the idea of a character coming from what's perceived by other characters as a desolate and unremarkable place rising to achieve immeasurable greatness by using and developing their skills. It speaks to the fact that anyone in the world is capable of being seen as heroic by someone. As long as one carries the intent to do good, anyone can be altruistic and valiant. We don't need to come from some illustrious family or have the greatest amount of wealth in order to do something incredible. Although I still feel this way, my love for Rey isn't what it once was and my current favorite characters are Mando/Din Djarin, Rose Tico, Cassian Andor, and Qi'ra. In their own ways, all of them possess and wield courage. They're adventurous, multifaceted, inspiring, and enthralling.
Olivia– my favorite star wars character is so hard to choose because each one of my favorites represents different parts of my identity. I would say if I had to choose, it would be Ahsoka or Padme. Both are women who make their own paths and always stand for what is right. They also can be a little impulsive, but always graceful. They are strong, determined, and are females I aspire to be like in my personal life. 
Rayven– Initially it was because I loved his naivete and his belief that good would win and bad would lose because that's how it goes. New Luke should bother me but he doesn't, because like him, I have changed in the 40 years since we "met". I cannot be that naïve about the world, I've experienced too much.  I understand his regret, his need to hide away, and his belief that closing himself to the Force is for the best. I also know that frustration with those who cannot see from where you are, is stressful.
Mel– my favorite character is Luke. I love how he tries so hard to be better, to see the best in people and how he's never fully defeated.
Rhianna- Ben Solo! I was intrigued by him as soon as he stepped off his ship ten minutes into The Force Awakens. I relate to his struggle of attempting to Be what people expect him to be. Because he thinks that will bring comfort. If he can be what others want he believes that loneliness he carries around will go away. But he doesn't. He learns to just BE as he is. I wish we got more of him.  Also the crossguard lightsaber is so cool. That's my serious answer. My real answer is Hondo Ohnaka. I like his flair.
Maria– I go between Ahsoka and Jyn. Jyn is the girl who had all these terrible things happen to her in her life and they changed her. We meet her in a jail cell much like I found Star Wars while in a facility I couldn't leave either. She decided that she was going to make a difference. She's the bad girl trying to do good. I can relate to that a lot. Ahsoka is the hope for me so much so I named my daughter after her. All these terrible things happened to her but she didn't fall or give up. Instead she chose to be the example she didn't have. In short Ahsoka is who I aspire to be. Jyn is probably who I actually am, no special powers just an ordinary woman who wants to do good. 
As a collective, your team keeps it real when podcasting. Was this something planned when you decided to do this podcast?
Olivia– I don't think anything was really "planned" . We all just got together and started talking. We talked about Star Wars and being black women in fandom and everything else just grew from there. I love that a lot of the show is impromptu, but always boils down to a theme. We really didn't want the show to be a second job or obligation, but more so a safe space where we could come together to nerd out about our favorite stuff, vent, and relate to each other. We keep it real because we have to. This is a space where we don't save face. We bring our authentic selves!
Rhianna– I don't think we ever sat down and agreed to "be real". I almost feel that if we DID have that type of conversation it would be -I don't know- less real, less authentic…I personally don't know how to be any other way. I'm glad I'm surrounded by other fantastic people who refuse to beat around the bush. 
Maria– I think it's easy in fandom to spot a fake i said if I ever did this I would just be myself. This isn't for money or fame it's just to help build a community and let other black women know we are here and you're not alone. I'm always me; complex and sometimes crass but always authentic. 
What's your favorite quote from a TV show/movie/book?
 Olivia– "Rey, never be afraid of who you are." -Leia Organa
Amanda– "What good is power if you cannot protect the ones you love?" – Cersei Lannister 
Mel– "Never give up hope, no matter how dark things seem." Opening quote of The Clone Wars episode The Wrong Jedi
Maria–  It's every citizen's duty to challenge their leaders, to keep them honest, and hold them accountable if they're not. – Ahsoka Tano Clone Wars
Rhianna- I assume you mean from Star Wars- "No ones ever really gone." Luke Skywalker The last Jedi. But if you meant in general  "Know No Shame" Thomas Hamilton, Black Sails
Rayven– If it's Star Wars, it's "Your focus determines your reality." If it's all time, it's from The Count of Monte Cristo. "I have always heard of providence, but I have never seen him or anything that resembles him or which can make me believe he exists.I wish to be providence myself for I feel the most beautiful, noblest, most sublime thing in the world is to recompense and punish."  Clearly I'm a little Sith now and then.
What's your go-to guilty pleasure?
Olivia– Woods: chinese takeout or ben and jerry's cookie dough ice cream!
Mel– Oreos 
Maria– Greater's Black Raspberry Chip Ice Cream yum.
Rayven– Mr Smoulder. 
Rhianna– I can't think of one. I'm quite shameless. Life is too short to feel bad about the things that bring us pleasure! Amanda- Baking chocolate chip cookies, eating crème brûlée from Target, and occasionally daydreaming.
What do you want your legacy to be?
Olivia– That I made a difference. That I made the world a better place for those who will come after me. I'm still not sure what my place is in that but I know I will find it soon.
Mel– I think Liv said it perfectly.
Rayven– I can't add more than to agree with Liv too.
Maria– That Sistas gave voice to the voiceless in fandom that we are a place where black women can come and express themselves even if you aren't a long term member. We are here and welcoming to all. 
Rhianna– Don't you all know I'm only 22 this is a lot to think about at my spry young age! I guess my words. My writing. Anything left I have to say will be written down and I'd want that to last far beyond my time. 
Amanda– That I positively contributed to the world. That I used my voice to assist in bringing about necessary and positive change from which future generations will benefit. That I lived a life in which I knew inestimable happiness, joy, and love. That I became more enlightened with each passing year. 
Where can people find out more about Sistas with Sabers?
Twitter: @Saberswith
Tik-tok: @Sistaswithsabers
Instagram: @sistaswithsabers
E-mail: sistaswithsabers@gmail.com
Or just listen to the show on Anchor Spotify and Apple podcasts.